So you have ambitions to travel the world and work online, but oh yeah, you have kids, and probably a 9-5 job (let's be real here) that you probably hate.
You feel like traveling and seeing the world is no longer an option because you're an adult with adult responsibilities. WRONG!

I am going to tell you my tips to traveling WITH KIDS, while still making money online and being a responsible parent!

How to Educate Your Child While Traveling and Working Online.
When you're traveling every few days, weeks, or months, finding a consistent way to make sure your child is receiving a proper education seems like a pipe dream.
Shockingly enough, you are not the first parent that wants to travel with their kids. There are a few ways to manage this.
Option 1: International Schools.
There is a little bit more expensive option, such as international schools that have a consistent curriculum that you can enroll your child in and they can pick up right where they left off. However, I would really only suggest this if you are looking to stay somewhere for at least 2 months.
Option 2: Local Co-Op.
There are also local co-ops that are offered in many different areas. Co-ops are small gatherings of students taught by a teacher that is also traveling abroad.
Teachers travel, too (maybe even traveling with their own kids). These educators still need to earn a living. Even more advantageously, earning money while doing what they love.
This way they get the best of both worlds. Check online for facebook groups to see if there are any co-ops offered where you are looking to go.
Option 3: Online Schooling.
There is always online education that you can explore. This would allow your child to study online a couple of hours each day, then have the rest of the day to explore.
Going this route also aids in bringing consistent education to whatever state or country it is that you would like to venture to next.
Option 3: Homeschooling.
Homeschooling is always an option, but if you plan to work online as a source of income, this might prove to be a little difficult. Unless, of course, you are traveling with a spouse where you can trade on and off on who is teaching and who is working.
Option 4: Hire an Au Pair.
Hiring an Au Pair is another avenue to explore. Often you are able to offer to pay for their flights and accommodations, a little extra money. In exchange, they can teach your child and make sure they are up to date on all their schooling.

Option 5: Cultural Activities.
Lastly, and my personal favorite option, cultural activities! You want to travel and see the world and explore the cities you're visiting. Those are GREAT learning opportunities for the kids.
Go to the local libraries. Take a walk around town, maybe even pay for a tour. Check out the local museums! Remember, you are there for the experience, make sure they get to enjoy that too!

8 Tips on What to Pack While Traveling With Kids (Spoiler: Pack Light)
1: When you are traveling the world, make sure you aren't taking your house with you. That's kind of the point. Bring as little toys as possible. Something they can use their imagination with and that will keep their attention.
Legos, for example, can be something you can build many different things with. Pack some puzzles, not just the 1000 piece puzzles (you'll be lucky if you don't lose a piece here or there). Grab some of those mind bender puzzles, ones that force the kids to use their brains to figure them out.
Add in some activity books, the ones that have the markers included and maybe some stickers, too. Once your kids are done playing with them, you can throw them away! One less thing to pack and you can pick up a new one at your next location.
Card games are another great thing to bring along. They don't take up much space but can entertain sometimes for hours. Uno, Skip-Bo, Phase 10, or even a normal deck of cards are great options.
An iPad or tablet is a great tool to have handy. You can use it on the plane for entertainment, for school (yes, there are educational apps), to play music, watch movies or TV shows.
Of course, don't forget to throw a workbook in there to keep working on the kids' school work.
Now that we've discussed what we should bring entertainment-wise, let's look at the other essentials.
2: Obviously, everyone will need clothes. Pack 3-4 shirts, shorts, jeans, 1-2 pairs of pajamas and sweats.

3: I can not stress enough, how important it is for you to buy quality footwear, especially since you will be doing a LOT of walking.
Pick up a pair of Merrell hiking boots that are great for walking all day. Grab Nikes for running, as if walking all day isn't enough exercise. Throw in some cute, yet comfortable Born sandals and call it a day.
Don't skimp here, okay? Thanks, you won't regret it.
4: We always have essential snacks we bring everywhere to avoid crabbiness and arriving already hungry to an empty kitchen. Here is a list of our go-to food items we always pack with us:
Fruit: Cuties, Apples, Bananas
Protein Bars
Peanut Butter
Caffeine essentials: Instant coffee, powdered creamer (both AMAZING)
For those of you where coffee is life, you don't have to worry where you're going to get your next cup, as long as you have water and that instant coffee.

5: It should also be noted that without fail, your kid(s) WILL get sick, hurt or have an allergic reaction when you're least prepared.
Don't be Not Ready Nancy. Be prepared. Always have your commonly needed medicine stocked up. You don't want to get to a new place and have to struggle to find the right kind of medicine for your children.

6: I've also found that ziplock bags of varying sizes are always helpful. Plus, when you're going through customs, TSA can see through the bag so they won't have to take everything out.
7: As a precaution, type of a list of contacts for you and your spouse to put in your kids' backpack, just in case you get separated (we know kids wander off). This way, whoever finds them has a way to get in contact with you.
8: Lastly, put together a folder of your important documents. Have copies of birth certificates (make sure they are notarized) for everyone.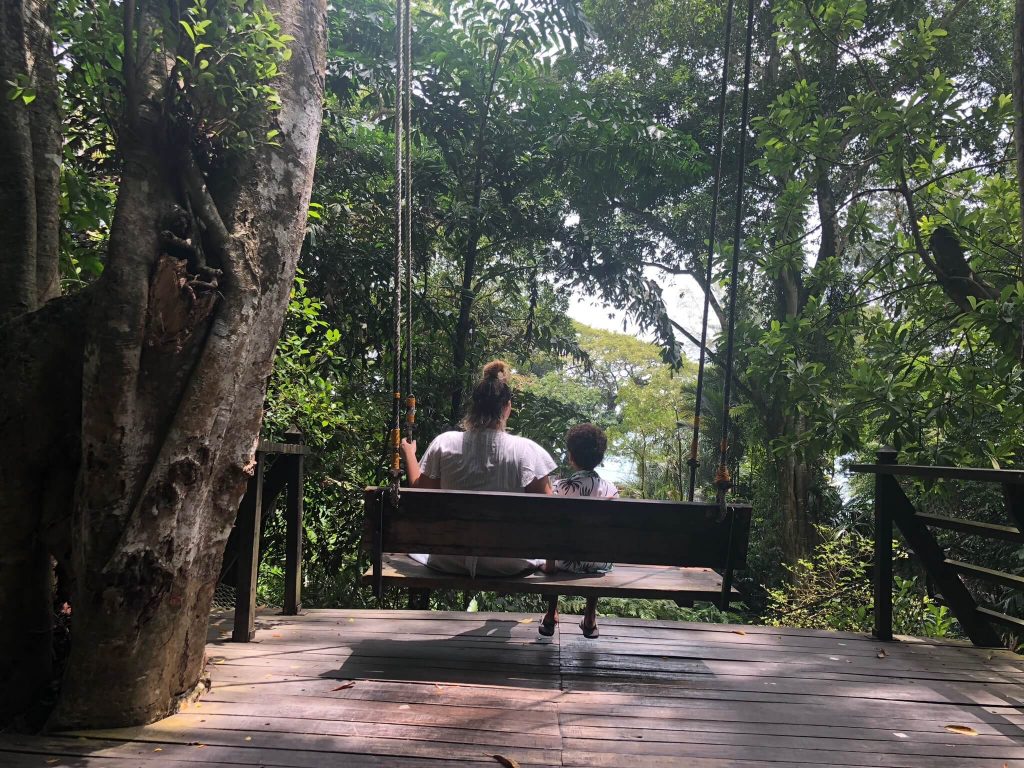 Places to Stay on the Cheap While Traveling With Kids.
1. Airbnb or VRBO
When traveling, there are a few ways to find accommodations. Some of the more obvious ways are with Airbnb or VRBO. People list their homes for rent, but normally these are for shorter stays.
Booking with Airbnb or VRBO can very helpful when traveling with kids since they will normally have all of the bedding, kitchen utensils and possibly even some light food items.
This can cut down on the list of things you need to pack (or probably forgot).

If you are looking to go this route, make sure you message the owner to try and work out a discount for your extended stay. The prices they list online can be OUTRAGEOUS.
If you just do a quick google search, you'll be able to find listings of places that are being rented.
2. House-Sitting.
There are also places to house sit! You might be able to find a great place to house sit and then you're able to stay there for free in exchange for keeping up the house.
That might be taking care of their animals, mowing their yard, or whatnot. A small price to pay to have free housing if you ask me! I should mention, of course, when you're house sitting, the owners of the house will not be there as they, too, are out traveling.

You might have to apply to a few before you are hired as one, but this is a GREAT way to save money while traveling.
Check out Trustedhousesitters, Rover, and HouseSitter just to name a few. Another way to find a place to stay is simply word of mouth. Maybe you know someone in the area you are going to. Mention it, they might have an option for you!
3. Traveling With Kids: Remember to Have. . .
With any of these options, I would make sure to have a small twin-size, blow-up mattress, battery-powered air pump (especially when traveling abroad), and a compact sleeping bag.
This way, you don't have to worry about not having enough places to sleep, especially if you do the house-sitting gig.

A bonus tip: things will go wrong, and that is OK! Prepare your kids, let them know what is happening so they can be comfortable. When they are comfortable, they are more likely to be happy, and less likely for things to go awry.
Go slow. Don't expect your kids to do everything you can do. Create a routine and try and stick with it as best as possible. Whether it's doing schooling and work in the morning and then an adventure in the afternoon and vice versa.
Just keep it consistent (with some exceptions, of course).

Generate Income Online While Traveling With Kids.
In order to travel you NEED to have a flexible, preferably remote job. If you do not currently have one of those, find one! There are so many opportunities out there to work from home and still generate a substantial income.
Virtual assistants are a great example. They are able to work from anywhere! If you are interested in how to stand out amongst the competition when applying for virtual work, check out our free class on how to get started working as a VA HERE.
If you don't think you have the skills needed to become a virtual assistant check out my program 90 Day VA and the FREE workshop I provide on what a virtual assistant is and how to replace your current income.
Becoming a virtual assistant can and will change your LIFE!
If you would like to travel, have the freedom to work online when AND where you'd like. Save your spot today in my FREE class by clicking here. If you have any questions or testimonials leave a comment below!
This content was re-purposed from a FB live with Esther Inman. It is the proprietary skill that is only taught within the 90 Day VA program by Esther.
It is in hot demand right now for so many entrepreneurs that need their content re-purposed and delivered into other avenues and social media platforms. This piece was re-purposed by a 90 Day VA student, Taylor Hanberry.
Taylor is a virtual assistant who loves to help you get things done! She is a military wife, a mom of two girls, and a yoga lover who holds a Bachelors degree in Business Accounting. Taylor is a current 90 Day VA member. She relishes the opportunity to help people with everything from content repurposing, and social media management, to general business management. To see all of the services she offers and how she can help you, check out her Facebook. https://m.facebook.com/taylynn325