(For Boss Babes on a Budget)
You are a boss babe with a plan! You are ready to start your online business working from home (while traveling from time to time to exotic places). It could be as a virtual assistant. Perhaps you have found a fantastic niche or gap in the market? You need a quiet, comfortable, and workable home office space to launch your online business.

Not all of us are blessed with an additional room in our homes or apartments, and if you have children, your once chic living room now looks like it belongs to a daycare center. The problem is that most of your working communications will be done online via Skype or Zoom, so you need an area which looks super sleek and professional.

They are definite pros to working from home:
You can wake up later( if you don't have children)
You can avoid the morning commute.
If you really want, you can stay in your pj's or sweat pants for the entire day if the mood suits you.
Some of the issues that you might encounter or physically trip over when working from home are; there are going to be more distractions.

You can't leave your chores behind because they glare at you the entire day.
If you are a stay at home mom, kids will always be vying for your attention in a none too subtle manner.
There is no one staring over your shoulder to make sure that work is getting done (but this one might belong in the pros corner too 😉).
4 Quick Tips to Design Your Perfect Home Office Space
1: Be Creative with Space You Have
As mentioned before, we can't all have an extra room in our homes to call our own. However, there are some cheap alternatives and ideas, that can help you partition the area you have designated as your home office, away from the rest of the house and other occupants.

Use a Screen or Bookcase:
Both of these are great solutions. They look high end and stylish, and when not in use, can be folded and tucked away into a corner ( the screen not the bookcase). The bookcase is more of solid partition but can be used to enhance your decorating personality with items that inspire you every day. Some examples are from Pier 1 imports and IKEA

Ceiling Curtains:
Hanging curtains from the ceiling gives you a sturdy barrier when in use. You can hide your office when guests visit and open up the room when you are with your family. It allows you to create an extra room for a fraction of the cost and it looks super classy. Some great examples are from Amazon.com and even more options on roomdividersnow.

Find a Nook.
Everyone has somewhere in their house that is not being fully utilized. Have a large staircase? You could possibly create a very cozy office underneath.
Do you possibly have a large closet that can be rearranged? Watch this great video for some inspiration and tips that can help you create a fantastic home office.

2: Use What You Have
Upcycling has become the latest trend. There are numerous tv shows airing on how to turn something bland and useless into a gorgeous new piece of furniture or decor for the home.

Do you have an old chair that looks dated? You can use a spot of paint, fix some rusty and wobbly hinges and now you have a chair that looks like it has come out of a glossy interior design magazine. Here is a great place to start getting inspiration and ideas from.

3: Flea Markets, Thrift Stores, Backyard Sales, and Granny's Attic
This idea can work both ways for you!
Do you really want that new desk but can't afford it? You can sell your tired furniture at flea markets, to thrift stores or even have a backyard sale to sponsor your new purchase. This helps remove unnecessary and underutilized furniture hogging space in your home, and 'voila' now you have some extra cash to afford the things that you really want.
"Treasure Hunting: One Yard Sale At a Time"

This can work for you the other way if you are looking for eclectic, retro, or vintage type furniture for your home office. This is far cheaper than buying it from stores. The feel of the office will be more authentic with whatever theme you are going for.
4: Find Inspiration Through Creativity
There will always be unproductive or demotivating days. The days when life gets hard or when you are tired, and sitting down to start work seems like the most laborious task ever. Adding a few inspirational or personal touches to your home office can lift your spirit and motivate that desire to work.

Do you have old frames lying around?

Take an old photo frame, paint it in your color theme, and add an inspirational quote that reminds you why you started this online adventure.
If you have multiple picture frames of various sizes, you can arrange them accordingly and add fresh flowers to hanging jars inside the old picture frames.
Use an old chalkboard and add it to the inside of a large frame and now you have a beautiful "to-do" list hanging above your head.
Use plants and greenery to give your home office a more tranquil feel by hanging flower pots plant pots from the ceiling. Here are some great ideas from Amazon.com to start you off with.

Wooden Laptop Stand

Office Accessories for a Boss Babe

Stylish Way to Include Plants

Paint Old Frames
Use creative ways to keep your desk tidy and organized. This alone can produce better productivity. Clutter can lead to disorganization. So having a work area that can be easily maintained and have essential tools within arms reach, will definitely help you be more creative.

Here are some quick tips to get you started!

#Tip 1: Use a stand with storage space to put your desktop on. It helps with creating more space, and it's ergonomically better too.
Tip 2: Use desk organizers to store essential items, such as pens, pencils, staplers, rulers, etc.
Tip 5: Use a rolling cart to store essential daily files (it also means you can roll it out of sight as well)
10 Inspirational Home Office Ideas
(For All Personalities)
1: Artsy Girl Office
This for the boss babe, who adds flair and panache to wherever she goes! She has a tendency for flamboyancy, and who loves to collect individual pieces that showcase her fabulous style.

If you are this boss babe, then the world is your oyster when it comes to this type of design. Just make sure your space doesn't become too cluttered, that it starts to feel disorganized!

Is your designated space a corner of a room?

An L-Shaped desk works wonders!

It allows you to have two work areas, which is dynamite for productivity. You will have more room for storage underneath too.

For those looking to custom design their desk on the cheap. Here is a great tutorial on how to build your own, or ask a husband, boyfriend, etc to help you out.
The other way and a perhaps simpler alternative is to purchase one. This desk is perfect for small spaces and looks super stylish too.

2: Blue & Gold Inspired
This is for the boss babe that needs color to inspire, calm and energize her for the day ahead.

Colors have a profound effect on our moods. These two colors will certainly get you into the right frame of mind for any boss babe.

Blue is known to affect the mind. It is calming and boosts productivity. It may even have the effect of slowing your breathing and lowering blood pressure.
Gold falls under the emotional side of colors. "A heart of gold'. This color adds energy and emotion to your color scheme. You don't want it to look too clinical and cold 😉
Here is a great set of office accessories to get you started!
3: Boho Chic Office
This is for the free-spirited travel lover. She runs a super sleek and professional virtual assistant business. It showcases her love for nature and gorgeously handcrafted items that she has collected while maintaining the professionalism of a true boss babe.

This office is clean and crisp but with the added warmth of earthy tones and textured accessories. Yellow, grey, and white are at the forefront of this design with wooden and straw accenting this gorgeous combination.

If the white is too clinical for you, try adding a vintage wooden desk to make it more grounded. This is the time to shop at vintage stores or go looking for old furniture that nobody is using anymore. A great way to have the best of both worlds is to find a desk and slightly distress it with white paint. This keeps it clean but adds the warmth of your personality to the design.

Not too sure where to start, check this out for some tips on the best ways to distress furniture.

3: Girly Office
Pastel spells out fun while embracing the feminine side of life. This is for the boss babe that takes control of her business but understands that life doesn't have to be too serious!

This look can be achieved easily with some cheerful accessories that bring out your girly side. Combine pastel colors that make it subtly colorful. You can change this look as often as you would like. Adding and removing key pieces to keep your new office, new forever.
Does an acrylic calendar appeal to your sense of style and proficiency? Here is the DIY version OR for those you just like to click and pay, this one is for you!

4: Barely There Office
A stylish boss babe will have this as her office. It's for the woman who loves interior design but is willing to play around a little bit.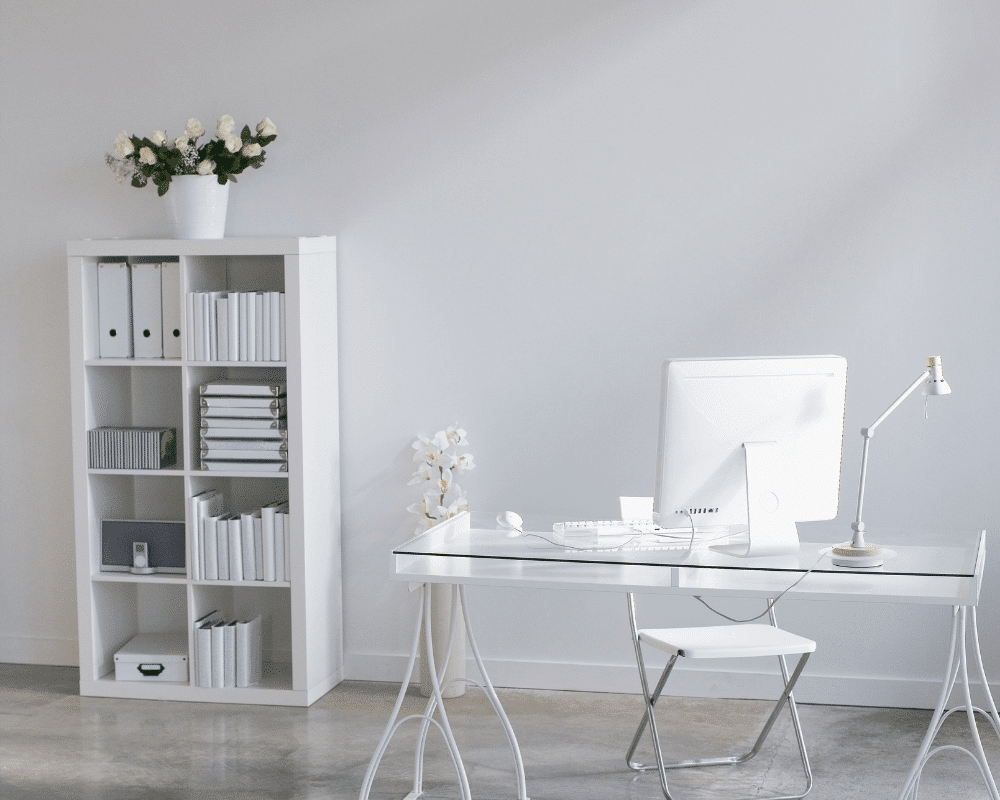 Minimalism meets functionality is what drives this gorgeous office design. 'Barely There' is great for those that want an office but don't want it to take over the entire space. You can mix it up too; have either a perspex chair or table and for those that want it to disappear entirely, you can get both! You don't need much, other than a few accent pieces that will gently drape the outline of your new office.

Go here to find out how you can purchase your barely-there furniture.

5: Shelf Office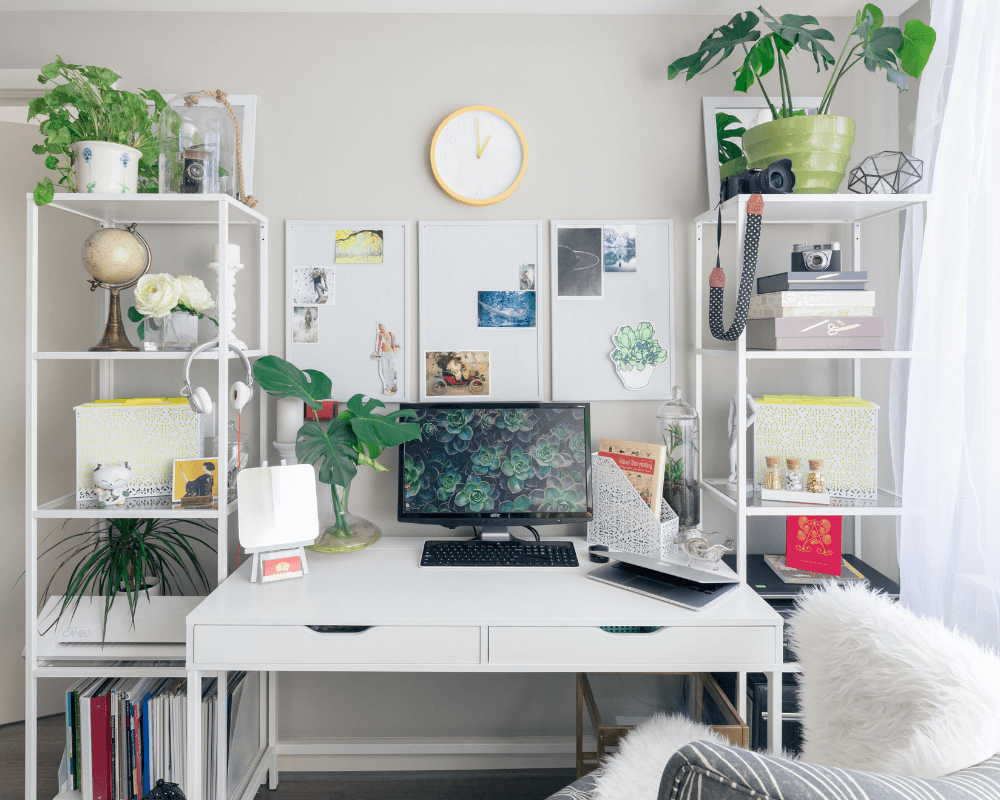 A boss babe who knows how to use her space efficiently, but doesn't mind a bit of artistic framing to highlight her successful online business.

This office is a win-win all around, and you don't need much to complete the actual furnishing. You can slowly decorate it with meaningful memorabilia and space-saving office accessories. This office looks amazing while storing some heavy-duty boss babe equipment. White is probably the best option here as it will blend in, and not dominate the entire space.

Ikea is the store for this look, and they won't break your bank!

Do you have an old office table lying around? A new coat of paint will transform that weary old desk and complete your design.

6: Peekaboo Office
For the boss babe who likes to keep her work empire separate from her personal life, or for those that are looking to save space.

This is the perfect office for hiding away your work when you are done. It utilizes an underused corner, keeping it neat, compact, and super darn cute. Are you a boss babe that runs her household like a military-style operation? Then this is the perfect place to install a command center.

Command centers take up wall space and not desk space, and allow you to see everything, from your kids next soccer practice to your professional pitches for future clients. Here are some great ideas to get you going.

7: Luxurious White Office
Who doesn't like a bit of scrumptious luxury in their life? This is for the boss babe that loves the simplicity of white but knows how to add some "richness" within her design.

This design starts off with a clean and basic palette; a white table and chair. The luxury element comes in with the spots of gold office accessories and textiles that will make any lady feel glamorous as she sits down to work. It won't cost a lot, and the great thing about having simple furniture is that you can swap out this design for let's say… a girly office?
8: Scottish Highlands Office
If images of emerald velvety hills, set against a dramatic skyline inspire you as a boss babe, then this is the color combination for you!

With simply a few basic office pieces, a splash of calming green, and a dramatic feature wall, this office could be yours. Ikea has a range of green chairs that will suit any budget with every possible variation of green that you could imagine. The textured wall is a huge highlight and this basic DIY tutorial will have you planning your second career as an interior designer.

9: Artistic Chalkboard Office
For an artistic boss babe that wants to turn a bland wall into a piece of art!
With a simple coat of magnetic chalk paint, your imagination can run free with whatever suits your online business personality. This can be used to create artwork which can be changed whenever the mood takes you. Not artistic? It can also be used as the ultimate spreadsheet, mind map, or to-do list.

It is not expensive, and you can change the look of your office with a single stroke…maybe a couple of more but definitely not a lengthy design process. Here is a great tutorial on the do's and the don'ts of applying chalk paint to a feature wall.

10: Garden Hideaway Office
The boss babe who is looking for a sanctuary to call her own.

No space in the house, what about your garden? Do you have an old shed collecting dust and storing unwanted items that could easily be sold to fund your new office? It's perfect for those that want to get away from home but don't want to drive anywhere. This office can be whatever style you want it to be, it's your perfect garden getaway. Visit here to get some super cute tips on how to turn a dusty eyesore into a masterpiece of home office decor.
Dream Big!
Is working from home an unfulfilled dream? Have you been struggling to find the right path that will lead you to decorate a home office? Working online doesn't mean that you have to sell stuff or get involved in risky ventures that cost you money to join. What if there was a program that gets you working online in 90 days or less?

Well…

There is!
90 Day VA is a proprietary course designed by Esther Inman, CEO of Virtual Assistant Internship. She turned her virtual assistant business into a 6-figure business and has now helped nearly 600 women work successfully online!

Check out the enrollment and syllabus details here and head over here to listen to real women talking about their successes after joining 90 Day VA!

You have nothing to lose and everything to gain!

Lauryn is a virtual assistant that specializes in creating and repurposing content that increases growth and engagement for all your social media needs. She enjoys learning about new platforms, techniques, and staying on current trends. She is a mom, wife, and now lives in the South of France with her family. Lauryn enjoys time spent with family and friends, and her dream is to live somewhere with an ocean view. To learn more about her services, click here.
---